Hard work, dedication, and attention to detail–Rosemary D.
If you are seeking the advice of a good and honest lawyer then I strongly suggest contacting Brian M. Maul. He recently represented our company in a trial and with his hard work, dedication, and attention to detail our case was won.
Brian is the type of lawyer every client wants–Karen B.
I highly recommend Brian Maul. His hard work, dedication and skill was demonstrated time and time again navigating the many bumps with our case. His knowledge of the law and attention to detail not only put my mind at ease – he won our case!
Business Consultation–Dennis
I consulted Brian to get review and get some recommendations for my business. He is professional and thorough and answered my questions clearly and also gave me some directions/ options for my business that I had not considered. I would highly recommend Brian to any business owner.
Very Satisfied with Brian's work regarding our case–Steven H.
Brian is extremely knowledgeable and thoughtful when approaching the issues that arose, and always advised us with our best interest in mind. Brian is very professional, easy to communicate with, and a pleasure to work with.
Highly Recommeded–Daniel H.
Brian Maul is a great lawyer. I hired him to represent me and he did a great job keeping me in the loop as to what was going on. He always returned my calls and was easy to communicate with, although I lived in Texas we were able to communicate and was able to represent me well. He is very details oriented with his research to ensure that he is working to benefit my case. I highly recommend him to everyone.
Brian is a rare find….! –Albert L.
My company was hit with a never-ending "nuisance" law suit. Our long-time "K Street" lawyer was making no progress however he was making a fortune in hourly fees and if I put up with this "process" I would either have to pay extortion to the plaintiff or go broke paying my lawyer.
At the suggestion of one of my employees, I moved the case to Brian Maul and was immediately amazed at how well he compared and contrasted to my previous lawyer.
It's easier to just list his many attributes:
1. He is extremely logical and really knows business law. He is intelligent, ethical and easy to work with.
2. He is very cost-efficient and generally produced 2 to 3 times the amount (of superior) work my previous lawyer did on a per hour basis.
3. He got up to speed with the case fast. In less than a month, he knew a lot more about this case than my previous lawyer who had been milking it for over a year.
4. He answered my legal questions fast and to the point. We discussed how we each thought the case should be handled and came to an optimal agreement; that worked!
Brian submitted well targeted briefs. His in court arguments were well received by the judge and the opposing counsel was no match for him. This case was rapidly settled without going to trial.
I never thought that I would compare the work of a lawyer to an artist.. Brian is an artist !
–Dinusha P.
Brian is always at the top of his game and one of the best lawyers I have ever worked with and known. Not only Brian possess a considerably amount of knowledge and experience in what he does, I have found him to be extremely efficient and very professional in his work. Brian always listens very carefully to all my questions and has never failed me when I need his advice and always gives me the honest assessment of the situation. I would highly recommend The Law office of Brian Maul for anyone needing a great lawyer in the area.
Great Business Attorney! – Priyesh P.

Brian has been our company attorney since April 2015 and has / is still assisting us in the process of buying a business in Frederick County, MD. As foreign investors he has helped explain to us in detail, via phone &/or emails, any questions we may have about the legal process. He has already helped to review purchase agreements and assist us in the negotiations of lease docs etc. We highly recommend Brian and his firm to anyone who is seeking a good MD lawyer.
Excellent Lawyer—Shawn S.
Brian worked diligently with us on our case (civil/real estate.) He guided us through the legal system and got us the results we wanted.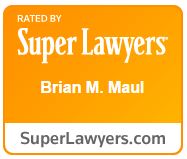 Very Efficient– Amber A.
Brian was very professional and efficient with my case. There were a lot of lawyers who did not want to touch my case. I was lucky to come across him when researching. He answered all my questions and reassured when he could with any worries. If for any reason I needed a lawyer and it was within his expertise, I would definitely hire him again.
Highly Recommended—Michael C.
Mr. Maul is intelligent, moral, and ethical. His knowledge, research, and preparation exceeded my expectations.Throughout my case, Mr. Maul effectively communicated with me. If I didn't understand something, he clearly explained it to me in layman terms. Although Mr. Maul believed that we had a strong case, he was logical and discussed the positives and negatives if we went to trial. Although we eventually settled, I was supremely confident in his abilities relative to the opposing counsel. I give Mr. Maul my highest recommendation. I would use him again without hesitation.
Completely Satisfied Client with All Expectations Exceeded–David A.
I am a recent client of Brian Maul. He worked as my lawyer on a complicated legal matter. I was impressed with his ability to break down each facet of the process and explain it to me in a way that I could understand. His hard work produced a result that was even more favorable than I had hoped for. I found Brian to be extremely knowledgeable, as well as responsive to my evolving needs during the process. His level-headedness during stressful times made the entire experience bearable. I would highly recommend him as a lawyer.
A strong recommendation– Louis B.
Brian thoroughly researched the details pertaining to our case and made our options clear to us. He was available when needed and could be reached evenings and weekends when we felt the need to contact him. We have the utmost confidence in his knowledge and abilities.
Don't know how I could have found a better attorney—John R.
I have found Mr. Maul to be courteous, prompt, efficient, knowledgable and thoughtful in his actions. I scoured the internet thoroughly before contacting Mr. Maul and count myself extremely fortunate to have chosen him.
—Travis H.
Brian Maul handled my small business partnership dispute with expertise and was able to facilitate the best outcome for me and my family's future as well as the future of the business entity. I would seek his legal counsel again in the future for all of my small business concerns and needs.